Arenal Costa Rica Hot Springs Hotels
There are a wealth of hot springs in the area surrounding the Arenal Volcano. These springs originate in a geothermally heated underground river. Local hotels tap into this source and bring the water to the surface, creating mineral-rich hot springs for their guests to enjoy.
Staying at one of these hotels gives guests the exclusive privilege of being able to soak in these springs whenever they please. Many of the springs are adjacent to cold pools - a feature that allows guests to cool down or heat up at their leisure - and some even have swim-up bars and water slides. There's no better way to begin or end a day in Arenal than by soaking in one of these relaxing springs.
Hotels with hot springs include Los Lagos, The Springs Resort and Spa, Arenal Paraiso, Kioro, Royal Corin, Baldi Resort, and Silencio del Campo. Some hotels allow non-guests to use their hot springs for a fee; others will not.
Best Arenal Costa Rica Hot Spring Hotels
The Springs Resort & Spa
Arenal, Costa Ricas The Springs Resort Spa is so romantic that it was featured on ABCs The Bachelor Costa Rica. Book your own fantasy adventure today
Tabacon Resort And Hot Springs
Admire Costa Ricas Arenal Volcano from the tranquility of multiple hot spring-fed swimming and soaking pools at Tabacn Resort and Hot Springs
Paradise Hot Springs Resort
Who knew paradise was only 10 minutes outside of La Fortuna, Costa Rica Paradise Hot Springs Resort offers hot springs, massages, healthy meals, and more
Arenal Kioro
The Luxury Arenal Kioro Hotel offers the most relaxiing and luxurious of experiences in the Arenal area
Arenal Paraiso Resort And Spa
Theres ample opportunity to go for a swim at Arenal Paraiso Resort and Spa, this Arenal hotel has 14 spring fed pools Bonus Sizes and temperatures vary
Baldi Resort & Spa
The Baldi Hotel and Resort is located inside the Hot Spring area so guest can walk from there room right to the Hot Spring pools and gardens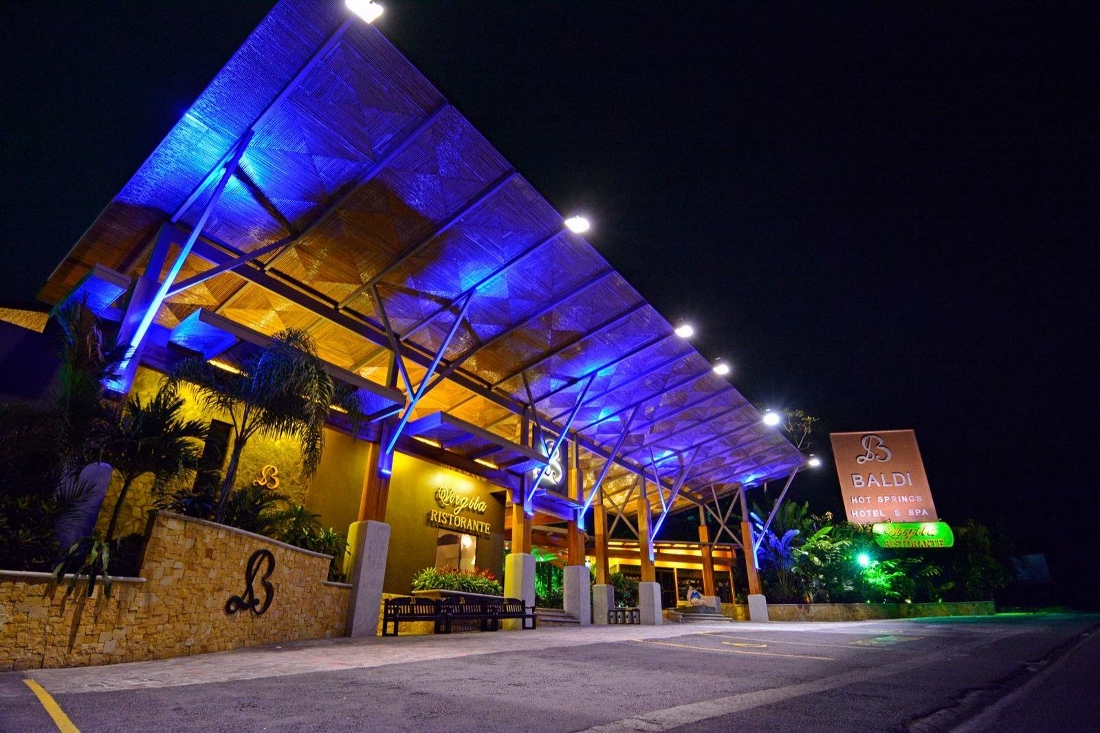 Casa Luna Hotel And Spa
Affordable indulgence is available at Arenals Casa Luna Hotel Spa Some rooms are wheelchair accessible, so theres nothing between you and your getaway
Heliconias Nature Lodge
Adventure comes to you at the Heliconias Nature Lodge in beautiful Costa Rica sloths, birds, and other animals frequent the the forest and garden
Hotel Magic Mountain
Encompassed by a tropical landscape, the Magic Mountain Hotel offers conference rooms, a spa, and comfortable rooms for business and vacationers alike
Hotel Silencio Del Campo
Seeking peace and quiet during your holiday in Arenal, Costa Rica Hotel Silencio del Campo translates as Country Silence Hot elenjoy natures tranquility
Hotel Royal Corin
Nature and luxury collide at Costa Ricas Hotel Royal Corin, where interior and architectural design are further enhanced by the allure of the great outdoors
Hotel Sueno Dorado
This small, family-owned retreat offers big helpings of Costa Rican hospitalityand delicious food Hotel Sueno Dorado puts you at the base of Arenal Volcano