Arenal Volcano Eruption - September, 2005
Eruption Date: Wed Sep 28 2005 17:00:00 GMT-0700 (Pacific Daylight Time)
Arenal Volcano photos above taken on September 28, 2005 @ 5h am & Sep. 29 @ 6h18 & 6h32 pm.
---
Photos above taken on September 27, 2005 @ 3h35 am, a normal flow and larger than normal eruption @ 3h42 am & 3h43 am.
---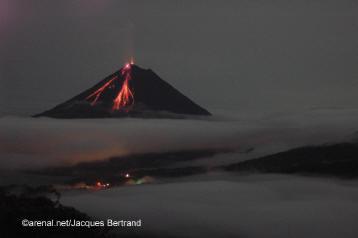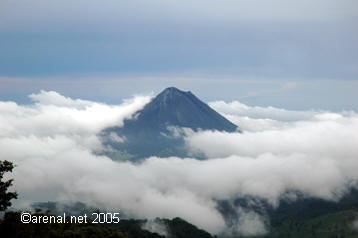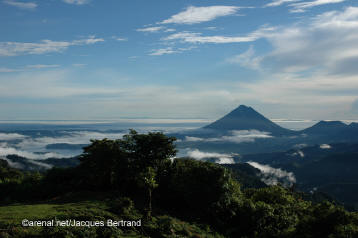 Photos above taken on September 21, 2005 @ 0h39 am, 1h15 am, 4h42 am, 5h51 am, 5h53 am & 6h32 am.
---
September 13, '05 @ 8h25 pm, 8h56 pm & 9h30 pm when big clouds came rolling in, so bye-bye Arenal Volcano & the half moon helping me out with lighting.
---
Pictures above taken on September 10, '05 @ 5h11 pm, 7h11 pm & 7h40 pm.
---
Arenal Volcano pictures above taken on September 8, 2005 @ 12h56 pm, 1h pm & 2h37 pm (ash plume photo by our guest Navneet Gill shot from the Arenal National Park).
---
Sep. 7 @ 6h47 am. Arenal Volcano with the lightning: lucky shot @ 8h51 pm on August 27, 2005.
---
All the photos below were made the same night but when the moon comes out then you get much more light for the pictures (note the shape of the half moon, different from what you see in the Northern Hemisphere).
On the last picture, the rectangular light on the left side is the dam of Lake Arenal
Check out our Arenal Volcano Map for an update on the volcano's current activity. It did, however, enter into a resting phase in 2010. At present, no eruptions are occurring.
There are a number of excursions in Arenal that allow for close viewing of the Arenal volcano. These include hikes through the Arenal Volcano National Park and the 4-in-one Arenal excursion, which includes a trip to the waterfall, a volcano hike, and a visit to one of the area's hot springs.
All photos on this website are the exclusive property of Arenal.net © and can not be reproduced without our written consent except for non-profit purposes with a link and credit to this site.